Last Updated: 28th August, 2022
Delhi Mass Suicide: 11 members of Delhi family found hanging in their home, a security footage found with notes in 11 diaries written over 11 years. On Saturday night, when the remainder of the world was in all probability spending quality time at home, Burari's Bhatia family was prepping to hang themselves! The extremely distressful incident of 11 members of the family hanging themselves to death has passed chills through the nation's spine. In an exceedingly latest found CCTV footage, 2 of the family members can be seen carrying 5 stools that were later used for the suicide.
CCTV shows how Delhi family organised hanging – like stools, last meal Read here: https://t.co/u9yQBLbsOx pic.twitter.com/SfD6zl15TD

— NDTV (@ndtv) July 5, 2018
Footage from a camera with a view of the doorway of the Chundawat house shows a lady, her daughter and 2 kids of the family bringing in the stools and wires were used in the mass hangings. All the members apparently died along around 1 am.
Espying through the CCTV footage the family, who actually voluntarily following the directions of a person possessed – Lalit Chundawat, 45, the younger son of the 77-year-old matriarch Narayani Devi. The diary notes were his, and indicate that Lalit hallucinated regarding his dead father advising him about salvation. Another one who wrote in the diaries was Lalit's 30-year-old niece Priyanka Chundawat, who had been engaged on June 17.
The diary notes additionally show that the family might have thought the spirit of Lalit's father would save them. The last sentence within the final diary, written on the day of the suicides, read: "… keep water in a cup, once it changes color, I will be able to appear and save you." after the "ritual", everybody was to untie one another.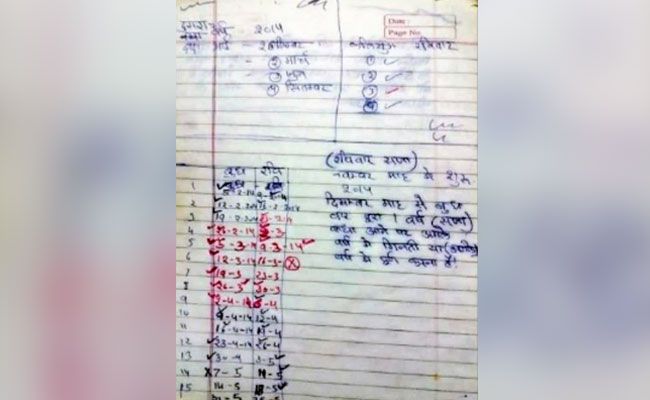 Footage shows that the family's youngest, 12-year-old Dhruv and 15-year-old Shivam, visited a furniture store downstairs and carried up the wires employed in the hangings. They were all tied up by their parents.
The next morning, ten members of the Chundawat family, as well as the schoolboys, were found hanging within the corridor of what has return to be called the "house of horrors". The wires were hung from a grill in an exceedingly manner that might be managed only by an insider with access to the roof, the police say.
They were all blindfolded, gagged and bound – all except Lalit's spouse, Tina, who might have bound all the others. The 11th, Narayani Devi, was found dead on the ground, additionally from hanging 9 members had shared 5 stools.
The question on whether or not this was a case of murder and not suicide still remains unresolved. However, so far, no signs of forced entry or physical violence on victims have been found.
The police are investigating the speculation of shared psychotic disorder that might have led to the Delhi mass suicide.